How to Plan your Wedding in Central Park
It is actually pretty easy to plan your wedding by following these tips, and of course you can have us do it for you with our Wedding Package.

1. Select your preferred Ceremony Location

We make it easy for you to select among the most popular spots in the park with our portfolios by location in the park, as well as the following map:
2. Apply for a permit at your preferred spot, for your date and time

Although this is not required for less than 20 guests, it essentially reserves your spot for a two hour window. For $25, this is definitely a good idea. Further information on permits is available at the official NYC Parks Central Park website. As part of our service we will secure this permit for you.

Please note, if you choose the beautiful Conservatory Gardens at East 105th, a "photography only" permit there will cost an additional $100, plus $400 for a ceremony permit. These fees are not included in our package price. Here is the NYC Parks Official Conservatory Gardens Wedding Information, and their official permit application. You may contact the Central Park Conservancy at (212) 360-2766 with any further questions on Conservatory Gardens weddings.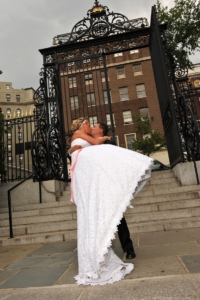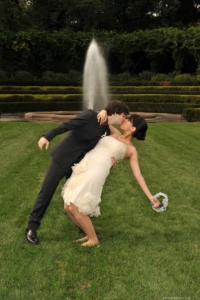 3. Photographer/Videographer

We include up to two hours of photography or videography in our package, with veteran NYC wedding photographers Steve or Kira, or video by Peter. We can provide both photo and video.

If you are interested in working with your own photographer, we can shoot the video, work as a second photographer, or be the backup photographer.
4. Officiant

Finding a great officiant is essential to a personalized and meaningful wedding ceremony. We have a list of excellent male and female officiants we have worked with for years, and include them in your package. We will find out which are available for your selected date and forward you their contact information to make your choice. Your officiant will be working directly with you as part of your team, up to and including the wedding day.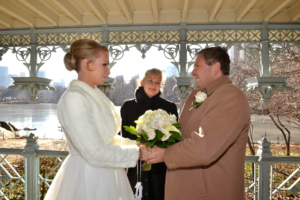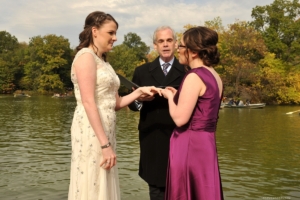 5. Flowers

New York City is full of incredible florists. This is one detail you should not overlook. Our package includes personal flowers for two, with one of our reliable florists delivering to your hotel or at the meeting spot the day of the wedding. Additional flowers may be ordered as well, including bridal party, corsages, and centerpieces for the reception.


Fresh Flowers

6. Timeline

Once you have your permit, you have already started your timeline. This is an important document and all parties must be aware of meet and start times and locations. There are many questions to begin asking yourself which will affect the timeline and the amount of photo/video coverage time needed.

At what point of the day will your photo/video coverage begin?
Will there be any family portraits, and if so before or after the ceremony?
Will there be a "first look" prior to the ceremony?

The timeline is a working document and should be updated frequently as you move toward the wedding date. You will work most closely with the planner, photographer, and officiant to create your timeline, and use it as a guideline for your wedding day. We have helped plan and coordinate hundreds of weddings, and we will be happy to share our experience with you and make sure nothing gets overlooked.
7. Rehearsal

As your day approaches, it is a great idea to visit your wedding site in-person with your photographer and officiant, and discus the details of the ceremony. If you are working with us, we will pick a mutually agreed upon time and go down to your site together.

8. Rain Plan

It is important to consider weather contingencies as a possibility in any outdoor wedding location. If you are somewhat flexible in the date (your reception plans may dictate this), and your photographer/officiant are as well, you can pick a "rain date" for the wedding. We are flexible regarding rain dates as well as working in the rain – unless thunderstorm in the area or torrential downpours. Otherwise, check with your hotel and reception venue/restaurant/etc. if they may accommodate your wedding in a weather emergency.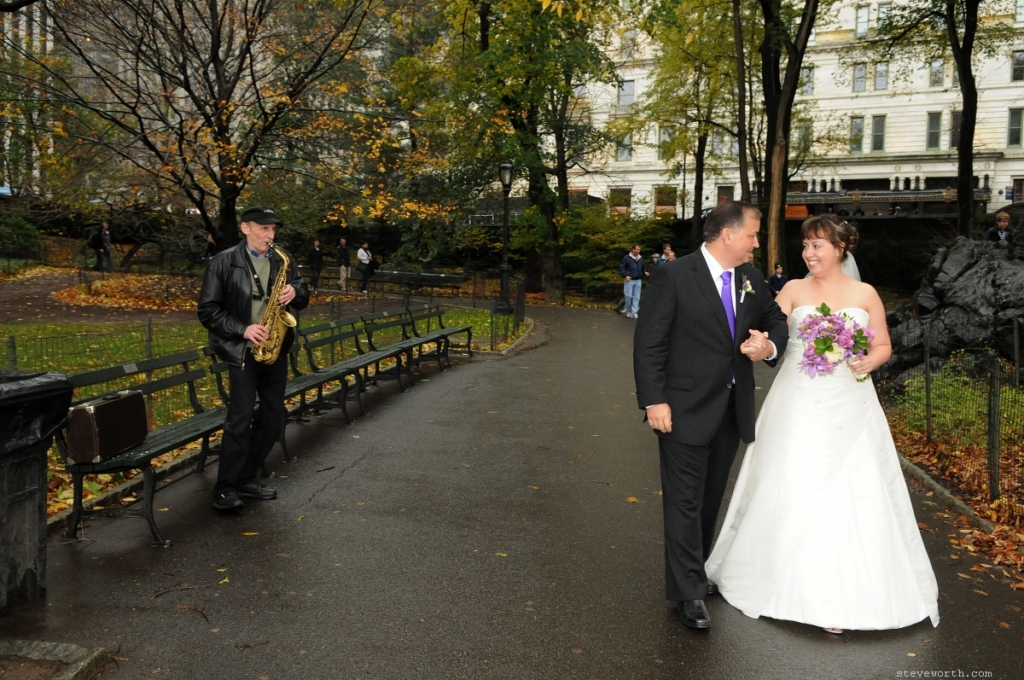 9. Marriage License

Your officiant will certainly go over this with you, however you and your prospective spouse must both go to the City Clerks Office during regular business hours (8:30 am to 3:45 pm, Monday through Friday, except holidays) and get your Marriage License at least 24 hours prior to your wedding. Your officiant will have you and the witnesses sign the license, then they will sign and send it back in the return envelope provided, within 5 days. From there, the actual marriage license will be issued and mailed to you – in approximately 30 days.

10. Transportation

Do not take chances on your wedding with a yellow cab, which sometimes can take 10 minutes or more to find, and even then are not always clean inside the doors, which can lead to a dirty white dress or suit before the wedding! App-based rides are not always on time either. It is always best to hire a limousine or a car service, such as Carmel or Dial 7 when you know you need a car ready and waiting. If you plan to visit some landmarks in Manhattan for photos (be sure there is a seat for your photographer!), your driver can wait while you hop out at each spot.